[Mini 4WD with special specifications to support Kumamoto Prefecture]
Many hands have been offered not only from Japan but also from all over the world in response to this earthquake, but Tamiya supports Kumamoto Prefecture with a mini 4WD. ! Kumamoto Mini 4WD (Kumamon version) is a special specification with a Kumamon driver doll riding. The body uses a popular Raikiri in the Mini 4WD race, clear and you can see the assembled and painted Kumamon driver. Of course, marking is also a dedicated metallic type. The chassis adopts a midship layout MA with a double shaft motor mounted in the center of the body. The chassis body is made of black colored ABS resin, A parts such as rollers and rear skid bars Is made of black low-friction resin.Black low-height tires are attached to 5-spoke yellow wheels. Set, equipped with a high-rotation type double shaft motor suitable for high-speed courses with many straights.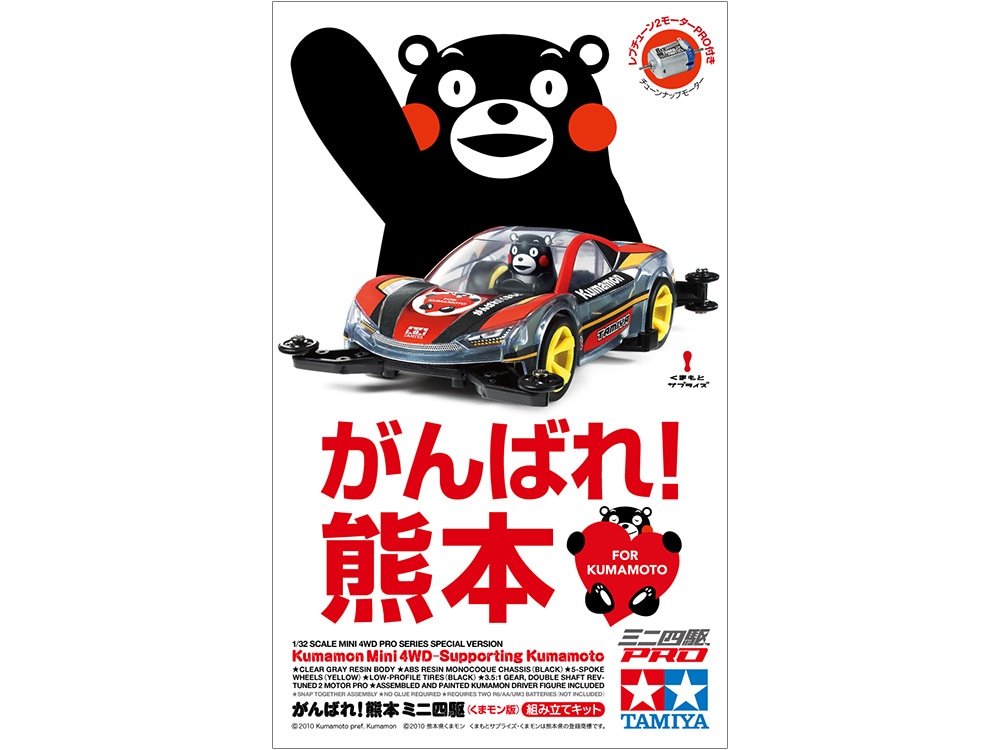 [Adopting a MA chassis that pursues drive efficiency]
MA is an abbreviation for Midship AERO (midship aero). Midship layout "MS chassis" with a double shaft motor mounted in the center of the vehicle. Airflow during travel (aero) The "AR Chassis" was designed with special attention. The "MA Chassis" combines the outstanding features of each into a single chassis. Of course, using the racing know-how accumulated so far, six Driving performance has been thoroughly polished, such as the use of low-friction resin rollers and rear skid bars as standard equipment. In addition, the adoption of an integrated monocoque structure further improves ease of assembly and maintainability. It is a chassis that can be used for a wide range of purposes, from street corner racing on the course to official competitions for large special 5-lane circuits. ABS resin, A parts such as gear cover and skid bar are made of black low friction resin. Five spoke wheels with bright yellow color are equipped with 26mm low height tires, 3.5: 1 super speed gear and high performance A standard Rebtune 2 motor PRO is provided as standard.
[Basic specifications]
● When completed, total length 156mm, width 97mm, height 43mm
● With a double shaft motor Rebtune 2 motor PRO
● Kumamon doll assembled and painted
● Body assembly Is a self-contained adhesive-free type
[ Required separately] ● Two AA batteries